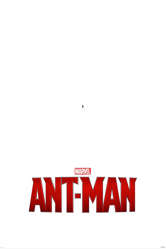 Big things do come in small packages. Marvel Comics continues it's movie domination with it's latest and most unexpected hero, Ant-Man.
The film stars Paul Rudd (an unlikely action hero but as it turns out, the right man for the job) as Scott Lang, Michael Douglas as Dr. Hank Pym, Evangeline Lilly as Hope Pym, Hank's daughter and Corey Stoll as Darren Cross. Co-starring are Michael Pena, Bobby Cannavale, Wood Harris and the rapper T. I. There are also some familiar cameos and some surprise stars from the Marvel Universe.
Since this is an origin film, the first half is very dialogue heavy with just a few short action sequences to keep you interested in what's to come. Mr. Rudd is not quite his usual snarky self but he is never the less, charming and fun to watch. The real fun is the special effects. The small
(no pun intended) visual
taste in the beginning really pops in the second half of the film. Clearly the CGI artists had fun with their work as many scenes will have you laughing out loud.
The CGI ants look a bit too metallic but they are quite detailed and fun to watch as Ant-Man leads them into battle. There are many clever action sequences making use of environments you wouldn't expect and one terrific fight with a surprise Marvel hero. Speaking of which, the film references the Marvel universe multiple times and keeps Ant-Man firmly rooted in the same reality. As to what added to the success of "Guardians of The Galaxy", the film doesn't take itself that seriously which is why Mr. Rudd is a perfect choice for the lead. The self deprecating humor keeps the film lively and things never get too heavy.
Make sure you stay through all the credits as there are two additional scenes once the film ends and they are both significant to the continuity of future Marvel films.