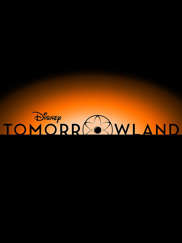 A two hour PSA wrapped around a commercial for visiting Disney World. Writer/director Brad Bird clearly wants us to know we are slowly killing the earth and only the most creative, brightest young minds can save us.
George Clooney stars but doesn't really show up until halfway through the film (not counting a short introduction at the start). His character, Frank Walker could have been played by almost any leading actor today. Mr. Clooney doesn't really bring anything special to the role. Hugh Laurie co-stars as the film's villain. The real star however, is Britt Robertson. Ms. Robertson looks like a young Julia Roberts and has many of the same attributes that show she is a star in the making. Her acting is natural, charming and very appealing. She easily holds her own in all her scenes with Mr. Clooney. The other standout role, Athena, is played by Raffey Cassidy. Ms Cassidy is a young British actress who also has a bright future as an actress.
The special effects are well done and there are a few scenes that highlight Mr. Bird's kinetic energy but the film plods along at times and it's clear message is no revelation. It's hard to tell exactly who the right audience is for this film. It will go over the heads of small kids, teens may not care and adults will get the message right away and then find themselves bored. It's a perfect film for high school science kids. After all, we are counting on them to save us.