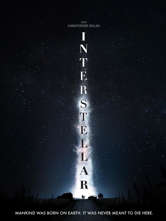 It's ironic that "The Theory of Everything" opened on the same day as "interstellar". Only Stephen Hawking could possibly decipher all the quantum physics thrown at us by writer/director Christopher Nolan (and his co-writer, brother). The film is stuffed with grand scientific theories and ideas but to Mr. Nolan's credit, he grounds it in emotional relationships. Unfortunately he also "borrows" quite liberally from the plot of "2010" and a bit from it's prequel, "2001:A Space Odyssey"
The strongest bond is between Cooper and his daughter Murphy played by Matthew McConaughey and Mackenzie Foy. Unfortunately, their relationship is so well defined and important to the story that the one between Cooper and his son is almost non-existent. Cooper is a farmer sometime in the future when the earth is dying. Conveniently, he used to be a NASA pilot and given the chance to save the earth, he jumps at the opportunity and leaves his family behind.
Mr. Nolan has grandiose ideas that look wonderful on screen but he is so caught up in his vision that he makes too many sacrifices along the way. Cheesy dialogue runs throughout and a Dylan Thomas poem that has great impact the first time we hear it, is repeated ad nausem. The emotional impact of the finale is weakened by the "head scratching" science fiction preceding it. Particular choices by the actors are sometimes very questionable. A unbilled "A list" actor shows up during an important part of the film and only serves to create a distraction.
Besides Mr. McConaughey (who is so well cast), the film also stars Ann Hathaway, Jessica Chastain, Topher Grace, John Lithgow, Wes Bentley and Michael Caine. It's a reliable cast doing good work but it's those early scenes between Cooper and Murphy that set the tone and really resonant throughout the film.
The cinematography is spectacular, especially in IMAX and there are thrilling sequences that will have you on the edge of your seat but the film left me regretting failing physics in college. I probably would have appreciated it much more.