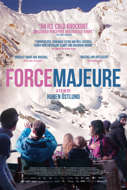 This new foreign drama is an absorbing look a family fractured by one quick decision while on a ski vacation. Tomas and Ebba are staying at a beautiful ski resort high in the Alps with their two small children Vera and Harry. The film is divided into the days of the family vacation and when an unexpected turn of events occurs on the second day, everything changes.
The acting is excellent as gender and family roles are examined by both Tomas and Ebba as well as their friends who come to visit. The film is very dramatic but their are moments of comic relief that break the growing tension.
Impressive cinematography both in the exteriors and inside the resort make for a beautiful backdrop for this very human drama that will easily lend itself to post viewing discussions.