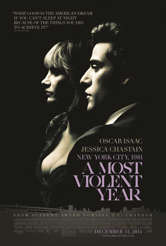 Writer/director J.C. Chandor evokes the gritty '70's style of New York films so brilliantly done by Sidney Lumet, with this new crime drama. This is Mr. Chandor's third film and each has been completely different, except for a common theme of what is the measure of a man?
The violent year referred to in the title is 1981 in New York City. A year on record as the most violent in the city's history. The fictional story revolves around Abel Morales, an oil company owner trying to run his business legally without succumbing to all the illegal activity around him. The film is brilliantly acted by Oscar Isaac as Abel and Jessica Chastain as his wife Anna. They have great chemistry between them and Mr. Isaac, in particular, is riveting. Ms. Chastain never fails to disappoint and her role here as a modern day Lady Macbeth is chilling at times.
Co-starring is Albert Brooks as Abel's lawyer and he is finding a great new career as a character actor (although he is saddled here with a terrible hairpiece). David Oyelowo also co-stars as the DA investigating Mr. Morales and his company.
The cinematography sets a perfect tone for the story with natural light and muted colors. At times, it is a bit too dark but it serves the story well. The dialog is terrific with many a memorable line. The songs and score also help to set the tone as well as some terrific period costumes and makeup. Mr. Isaac's coat is almost a character by itself.
January is not usually known for quality films so "Violent Year" is quite the surprise.