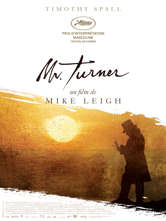 Writer/director Mike Leigh has crafted a beautiful period drama abut the later years of famed British artist J.M.W.Turner. Timothy Spall, who has worked before with Mr. Leigh, gives an extraordinary performance as Turner.
The film is as visually enthralling as one of Mr. Turner's landscapes. Mr. Leigh and his cinematographer, Dick Pope paint a visual masterpiece in almost every scene. The landscapes of England and Wales provide a gorgeous backdrop for the story.
The film co-stars Dorothy Atkinson as his love lorn housekeeper, Hanna Danby. It is a raw and heartbreaking performance. Marion Bailey is also excellent as his last companion and love, Sophia Booth. Leslie Manville and Paul Jesson also lead a fine supporting cast of British actors and actresses.
The story is episodic and not fluid as it moves through Mr. Turner's life. It's as though you are walking through a gallery and observing all the art even though the pieces may not be connected. Nothing of consequence really happens but you can still appreciate the acting and the visuals. I did leave the film eager to learn more about Turner and his art so I can genuinely say it's an affecting work and one of Mr. Leigh's best.