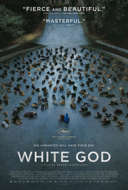 A remarkable Hungarian foreign film featuring a cast of real dogs (no CGI) that will tear at your heart and leave you speechless with an astonishing final frame.
Before I go any further, know that there is a disclaimer right at the start that all the dogs in the film came from animal shelters and after the film was done, they were all adopted out. Furthermore, at the end it states rather boldly that no animals were harmed during the making of the film. All violence is simulated and the local Humane Society monitored all filming very closely.
Lili is a young teenage girl with divorced parents. At the start of the film, she goes to live with her father for three months and brings her dog Hagen with her. After trying to cope with a dog he really doesn't want, her father leaves Hagen in the street and drives away with Lili crying in the back seat. From this point the film navigates back and forth between Lili and Hagen, both trying to survive in their own way.
Hagen is played by two brothers, Luke and Body and it's hard to tell them apart. They are beautiful animals, very expressive and incredibly trained. After of series of heartbreaking adventures, Hagen ends up in an animal shelter with 250 other dogs and the last third of the film takes an unexpected twist unlike anything you have ever seen.
If you love dogs, be warned that even though it's all simulated, the on screen violence is hard to watch. This is not a Disney film. There is a 16 minute documentary on Youtube about the making of "White God". I recommend it first to prepare yourself for this amazing film.