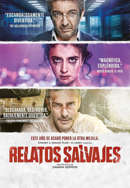 An Academy Award nominee from Argentina, this dark comedy is an outrageous look at revenge told through six unconnected short stories.
The first story hits a little too close to reality after certain events in the news but the film makers could not have anticipated art imitating life in this particular instance. After that, things get nastier but filled with much dark humor.
The film is in subtitles but visually rich. The cinematography is outstanding and a lot of the camerawork is shot from unusual angles and beautifully framed.
The film was written and directed by Damon Szifron and while there is some inconsistency in the story telling, overall the film is very entertaining and he definitely leaves the best story for last.