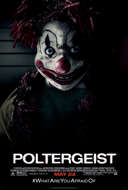 Curiosity got the better of me. I loved the original so I certainly wondered why bother doing a remake in the first place? Easy answer...money, which unfortunately this new film won't make.
The story follows the same trajectory as the original but embellishes it with new millennial flourishes like flat screen TV's, cell phones and drones. It may do a good job modernizing the story but it completely forgets how to scare you. The original was a roller coaster ride of adrenaline rushes. Now we get second rate acting and stereotypical scares even when they mimic the original. The big climax falls flat and doesn't come anywhere near the first film.
Sam Rockwell as the dad is the only saving grace in the film. Nobody does snarky sarcasm like Mr. Rockwell and he brings a welcome touch of comic relief. Rosemary DeWitt, as the mom does a serviceable job but doesn't have the "mama lion" instincts of Jobeth Williams. Jared Harris camps it up as a reality show ghost hunter, replacing the diminutive medium, Zelda Rubenstein.
For real thrills and chills, stick to the original. When will Hollywood realize you shouldn't mess with the true classics?