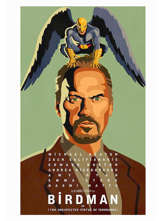 A complex film that at its core is a simple story of a washed up Hollywood actor looking for redemption, "Birdman" questions life imitating art, imitating life. When Riggan Thompson walked away from the superhero film "Birdman 4", his career seemed over. Now he has a chance to create "real art" by writing, directing and starring in a Broadway drama based on a Raymond Carver story. However, things are never a s simple as they seem.
Michael Keaton stars as Riggan and he is absolutely astounding. He is joined by a wonderful cast as well. Naomi Watts as his leading lady, Andrea Riseborough as his lover and co-star, Edward Norton as his temperamental co-star, Zack Galifiankas as his manager and Emma Stone as his daughter. Mr. Galifiankas plays it straight as the manager and its refreshing to see him this way. Ms. Stone, usually highly overrated, has found the perfect role as the disconnected daughter trying to find the connection with her father. However, as good as the whole cast is, the film completely belongs to Mr. Keaton. He is in almost every scene and is brutally raw and honest. He puts everything he has on screen and is completely fearless.
There is a mystical element to the film that you either accept or not and the throbbing percussion heavy score may not be for everyone but either way, director Alejandro Gonzalez Inarittu has crafted a truly original film that stands out in a crowded Hollywood field. The film takes place mostly in and around the St. James Theater in New York but never feels confined in
anyway. The camerawork is flawless. The film appears to be shot in one long continuous take with no editing.
You can't help thinking about the parallel between Mr. Keaton walking away from a Batman sequel, dropping off the Hollywood radar for sometime and then finding the role of a lifetime that will surely garner him an Oscar nomination.