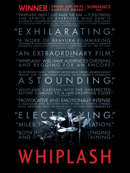 Truly exhilarating and easily one of the best films of the year, "Whiplash" takes familiar territory and gives it a new and exciting twist. We've all seen the war or sports movie where the insanely tough coach or drill Sargent turns the underachiever into a winner. Set in the world of music, "Whiplash" is a war of wills between a percussion professor "from hell" versus a talented young drummer.
Andy, played by Miles Teller is a freshman at a Julliard type music academy learning to master the drums. Fletcher, play by J.K. Simmons is his perfectionist tormentor of a professor. One, an obsessive drummer striving to be the best at all costs, and the other pushing him past his limits with verbal and even physical abuse. Make no mistake, this is a literally bloody war played out in a rehearsal space and eventually on stage.
Miles Teller must have practiced non-stop to become the drummer he plays in the film. He is astounding and his acting is as every bit as good as his music. J.K. Simmons is channeling his "Shillinger" character from the HBO series, "OZ", every bit as scary but without the tattoos. One minute he is telling his band to "have fun out there" and the next second, he is abusing them without mercy.
Paul Reiser co-stars as Andy's father who can't understand his son's obsession but loves him just the same. Their scenes together are tender and genuine.
Writer and director Damian Chazelle knows exactly when to pull his punches and when to let things fly. He creates a tension between Andy and Fletcher that becomes unbearable. During the musical sequences, his camera whirls around the musicians with a variety of closeups on their faces and their instruments creating a vortex that takes the music to another level.
"Whiplash" will leave you breathless.