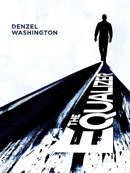 "The Equalizer" was a TV show in the late '80's about a retired secret agent, Robert McCall, who helped people in trouble. McCall was played by a older British actor who used his gun sparingly and relied on a small group of associates to help him vanquish the bad guys. The film is very loosely based on the T.V. show.
Denzel Washington plays Robert McCall and we first meet him working in Home Mart (Home Depot wisely choose to not to be involved). We know nothing of his past and he seems to live a quiet life. Having trouble sleeping, he spends his late nights at a diner reading and eventually befriends a young prostitute that comes into the dinner every night. When the girl, played by Chloe Grace Moretz, is beaten by her Russian pimp, Mr. Washington goes after those responsible for putting her in the hospital.
This is a plot we have seen many times before. "Retired" agent living a quiet life is drawn back into his old ways for a variety of reasons. Mr. Washington plays McCall with very little emotion and when the killing starts, he turns into a terminator type killing machine. He easily over-matches his adversaries and even when the Russian mob send a very capable opponent, played by Marton Czonkas, their climatic fight is disappointing as it's staged giving Mr. Washington all the advantage.
The film is directed by Antoine Fuqua, who made "Training Day" with Mr. Washington. That was a terrific first film. Here, he gets lazy, depicting much of the violence off screen and using techniques we have seen before used to better effect. The scenes that are violent, are very violent, done to appease the obvious audience for an action film but they are far and few between. The movie is really fairly boring between the bloodshed.
The end sets up what looks like the start of a franchise character. I can only hope the eventual sequels are more exciting and interesting.