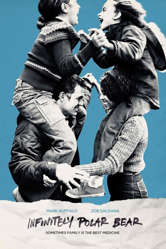 Mark Ruffalo stars as Cameron, a manic depressive bi-polar father of two little girls.
Zoe Saldana co-stars as his wife, Maggie.
The title refers to how his youngest pronounces his condition. And while Mr. Ruffalo's acting is as excellent as always, his portrayal is one dimensional. Whether it's the direction or his interpretation but his only clinical sign (after a initial breakdown) is just being totally manic.
When Maggie decides to go back to school to get an MBA, she leaves the girls in Cameron's care. The story is both
amusing
and heartbreaking and is clearly a showcase for Mr. Ruffalo. Imogene Wolodarsky plays Amelia, the older daughter and Ashley Aufderheide plays Faith, the younger sister. They are both very good and play well against Mr. Ruffalo. The three share most of the screen time together.
The film is written and directed by Maya Forbes, based on her own experiences growing up with a bi-polar father. Since it's her own story, I can only assume it's a fairly accurate portrait of her life. Mental illness is not easy to get right on screen and while the film seems to paint a bit too cheerful picture, it's still a worthy drama.