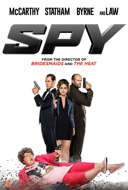 Writer/Director Paul Feig has another hit with his muse, Melissa McCarthy. Ms. McCarthy continues to improve with each film. She absolutely shines here in her first fully developed leading role.
The movie is a clever send up of James Bond films from the opening credits to very funny sight gags. Ms. McCarthy plays a desk bound agent for the CIA who finally gets into the field when a fellow agent, played by Jude Law, is killed chasing a stolen nuclear bomb.
Her fellow agent in the field is played by tough guy Jason Statham, who hilariously makes fun of his own image. He almost steals the film but make no mistake, this is a star vehicle for Ms. McCarthy. She shows a wide range while maintaining her natural goofiness. Her verbal barrage of one-liners, whether scripted or ad-libbed are absolutely hysterical.
The villains are played by Bobby Cannavale and Rose Byrne. Mr. Cannavale role is small but crucial to the plot. Ms. Byrne is clearly enjoying her role as the femme fatale who shares some great scenes with Ms.McCarthy. The CIA chief is played by Allison Janney, deserving of more screen time but good none the less.
Mr. Feig makes good use of his globe hopping locations, moving briskly around Paris, Rome, and other major European cities. He and Ms. McCarthy have a natural connection that is evident on screen.
"Spy" is funny, exciting, filled with actual intrigue and can easily be the start of a franchise character.