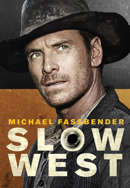 A new Indie western that at once is iconic and yet at the same time turns the genre upside down. Brilliant in its simplicity with wonderful cinematography, this is a film to be savored slowly and appreciated for it's quirkiness.
Kodi Smit-McGee stars as Jay, a lanky naive young man, new to the American west in search of his true love, Rose. In flashbacks, we see them together in Scotland when circumstances force Rose and her father to leave for America. The film opens on Mr. Smit-McGee staring up at the stars, alone at his campfire. Soon enough, he gets into trouble and is rescued by the film's narrator and his co-star, Michael Fassbender. Mr. Fassbender is a drifter in the iconic mold of Clint Eastwood's "man with no name". The two men come to an arrangement of sorts and ride off together.
The land is expansive (New Zealand fills in for the American west) but the film is small. There are few characters within the contained story. There is no town, just the land, our two riders and the small band of bounty hunters following them, led by Ben Mendelssohn. No better choice here than Mr. Mendlesohn to play the villain. He is wonderful in these types of roles.
Writer/director John McLean respects the western genre but stages ample scenes with a Wes Anderson playfulness.
There is requisite gun play but staged in unusual and original ways. The ending is refreshingly different than expected but yet, makes sense at the same time. There is so much to enjoy in this "little" film that I can't wait to see it again.