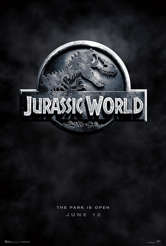 New director Colin Trevorrow takes over the reins for this reboot of a huge franchise. The film is executive produced by Steven Spielberg and while he may not have been on set, you can feel his presence throughout the film. After an entire trilogy of dinosaurs running amok, Mr Trevorrow has big shoes to fill and guided by Mr. Spielberg, his reboot ultimately succeeds.
It's a clever script that makes fun of itself right from the start. People are getting bored visiting Jurassic World. They've gotten used to seeing the dinosaurs now for years so of course, the mad scientists back in the lab must produce a bigger, meaner, scarier model. What could possibly go wrong?
The film stars Chris Pratt as a raptor trainer (don't ask, just go with it) and Bryce Dallas Howard as the Director of the theme park. Co-starring is Vincent D'Onofrio representing the evil corporation with its own agenda and Irfan Khan as the billionaire who funds the park. Jake Johnson is comic relief and B.D. Wong is back as the mad scientist. The film also introduces the requisite kids (this time brothers) who, of course, are immediately in danger. They are played by Nick Robinson and Ty Simpkins.
Mr. Pratt makes a dashing hero as he proved in "Guardians of the Galaxy" but his role here is not quite as freewheeling as Peter Quill. Ms. Howard does a good job of starting out as the Ice Queen and eventually melting into a caring human being, Being chased by monster dinosaurs can have that kind of impact.
The film starts slow with lots of sentimental backstory but picks up steam and holds a few good unexpected surprises for the audience. The CGI is better in some scenes than others but the raptors are just terrific. You really imagine them to be actually on screen interacting with the cast.
I enjoyed it more as it went on and it ultimately does succeed as a perfect summer popcorn movie. You get what you expect...and then some.