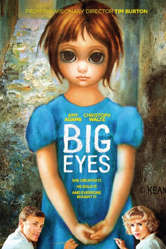 Tis the season for films "based on a true story" and if you aren't old enough to remember the paintings of children with big soulful eyes, you may not be interested in this story. It is, however, a film worth seeing for the over the top performance by Christoph Waltz and the heart breaking performance by Amy Adams.
Directed without his usual bombastic panache, Tim Burton offers up a very human story that covers many themes over the course of the 10 year marriage of Margaret and Walter Keane. The story takes place starting in the fifties. Margaret is a divorced artist with a young daughter. She is swept off her feet by the charismatic Walter who soon convinces her to let him take credit for her art. What starts out as an accident soon turns into a profit machine with the world convinced Walter is the artist behind the "Big Eyes" paintings.
Mr. Burton shoots the film in a bright colorful palette and has only one signature Burton moment but he captures Walter's blowhard charisma and Margaret's pathos perfectly. Ms. Adams is always a delight to watch and Mr. Waltz makes a perfect villain as Walter, convinced to the end, he has done nothing wrong. The film co-stars Krysten Ritter as Deeann, Margaret's apparently only friend, Danny Houston as Dick Nolan, a San Francisco gossip columnist who "discovers" the Keanes, and Jason Schwartzman as a snobby gallery owner.
It's a fascinating story that makes for an entertaining film. Stay through the credits for photos of the real Walter and Margaret Keane along with a fitting coda.