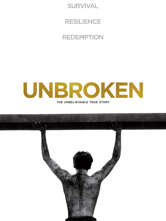 Angelina Jolie directs the film adaptation of the best selling true story of Louis Zamperini. It is a remarkable tale of survival during World War II. The book by author Laura Hillenbrand was an amazing read and truly inspirational. The film version certainly captures the horrors of war and the exhilaration of triumph but somehow misses the soul and spirit of the story.
Four screenwriters are credited with the story and I think it's a classic case of too many cooks spoiling the meal. Whether its the screenplay or Ms. Jolie's direction, the film covers the physical aspects very well but overshoots the metaphysical features so prominent in the book.
Visually the film is very striking, and Ms. Jolie doesn't shy away from Mr. Zamperini's brutal torture at the hands of the sadistic Japanese soldier that runs the POW camp. She also is intent on sharing every aspect of the 45 days adrift at sea after Mr. Zamperini's plane crashes. She shows us the worst in order to appreciate the endurance and survival even more.
Jack O'Connell stars as Louis Zamperini and he endures every hardship admirably. He is joined by Domnhall Gleeson, Finn Whitrock and Garrett Hedlund as his fellow soldiers. Japanese rock star, Miyavi co-stars as the sadistic "Bird".
"Unbroken" joins the long list of "a true story" films this holiday season and it's a film worth seeing but if you want to really experience the true essence of the story, read the book.