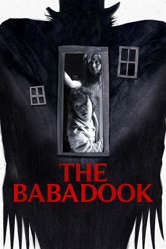 Australian writer/director Jennifer Kent has made one of the best films of the year that you probably won't want to see. It is an old fashioned horror thriller that will scare the daylights out of you without excessive blood and gore. In fact, there is very little blood at all but the suspense factor is first rate.
Amelia is a widow trying to raise her troubled young son on her own. The boy is fearful of almost everything and clings to his mother obsessively. While she loves her son dearly, Samuel often drives her close to a breaking point by his actions. At night she reads to him before bed to calm him down and on one particular night, he pulls "Mister Babadook" off the bookshelf.
The book is a pop up book filled with progressively horrible images and Amelia quickly closes it and finds something else to read. However, the boy becomes obsessed with the Babadook and thinks its coming to kill them both. It is here that the slow build of terror starts to snowball.
Essie Davis stars as Amelia and it is a powerhouse performance. Is the Babadook real and has he possessed her or is she just losing her mind? Ms. Kent tosses us small tasty morsels of dread that get bigger and scarier as the film goes on. The horror of the Babadook starts slow with only a glimpse of what's to come. As Samuel loses control, so does Amelia but the smart script never makes it clear if the Babadook is real or imagined. Either way, the danger is real and the audience is filled with unease and panic at every dark turn.
The camerawork, music and the wonderful acting by both mother and son (Noah Wiseman is fantastic and I only hope the film has not scarred him for life) all combine to completely unnerve us by the film's climax. The ending is a little too neat but what leads up to it is a brilliantly scary thriller.