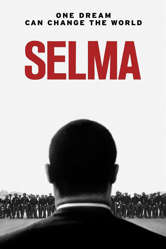 A remarkable time in America is well represented in this recreation of Dr. Martin Luther King's civil rights march from Selma to Montgomery Alabama. Director Ava DuVernay does a great job, not only sending us back in time to the tumultuous '60's but her direction of star David Oyelowo, humanizes Dr. King and the script by Paul Webb, provides us a complete picture of the man.
I can't say enough good things about Mr. Oyelowo. Not only is their a physical resemblance to Dr. King, but Mr. Oyelowo captures the speech patterns and body language perfectly. He honors the man with an outstanding performance. Carmen Ejogo co-stars at Coretta Scott King and also does an admirable job. For two very important roles, Ms. DuVernay makes an odd casting choice, picking two high caliber British actors, Tom Wilkinson to portray President Lyndon Baines Johnson and Tim Roth to portray Alabama Governor, George Wallace. They don't quite disappear into their parts like Mr. Oyelowo but they do manage to convey their character's traits convincingly enough.
There are a host of other great character actors, including Wendell Pierce, Cuba Gooding Jr., Common, Giovanni Ribisi, Andre Holland and even Oprah Winfrey (also a producer), among others, that round out the cast. It's a wonderful ensemble behind Mr. Oyelowo.
Weaving actual footage of the march towards the end really enhances the film. Art and life blend together to strengthen the impact. What could have easily been thought of as a Lifetime TV movie of the week becomes so much more. It's such an important time in our history and it's clear Ms. DuVernay and her cast worked hard to get it right.