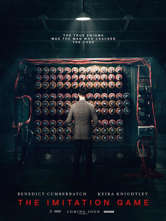 Based on a true story but taking cinematic license with some of the facts, "The Imitation Game" is still an absorbing untold story of World War Two. And while it is wartime, the story takes place entirely in England and is the story of Alan Turing, the man credited with breaking the German "Enigma" code.
Enigma was the secret code used by Germany for all radio transmissions and was deemed unbreakable by all the allied forces. The British Secret Service recruited a small team of code breakers including Turing, who eventually did manage to break the code and turn the tide of war against Germany. How they break the code is the central plot but what really holds the audience enthralled is Turing himself. He was a brilliant mathematician with no social skills and a secret of his own. Bringing him to life is the remarkable performance of Benedict Cumberbatch.
Mr. Cumberbatch's acting is flawless and easily the best role of his career to date. He is surrounded by a strong supporting cast including Kiera Knightly, Charles Dance, Matthew Goode, and Mark Strong. Allen Leetch and Rory Kinnear also co-star in small but significant roles.
Screenwriter Graham Moore and director Morten Tyldum keep things interesting by moving around in multiple timelines, starting in the '50's when there is a break-in at Turing's house. When the detective in charge begins to probe deeper into Turning's life, things begin to unravel. We also see Turing at school as a awkward young man, on a path that will change his life forever. At the center is the team racing the clock to solve the Enigma puzzle.
The film is smart, exciting, dramatic, clever and heartbreaking as well. It may well be about breaking Enigma, but it's heart and soul is the story of a complicated man that deserved to be called a hero and instead ended up vilified by the very nation he helped save.