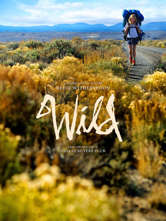 Based on the best selling true story of Cheryl Strayed, the film stars Reese Witherspoon as Cheryl, a self destructive woman who takes a 1000 mile walk of self discovery.
The film moves back and forth between Cheryl's walk along the Pacific Coast Trail and flashbacks of her life and the events that led to her decision. Ms. Witherspoon is also the producer of the film and you can tell it's a labor of love. She easily does some of her best acting here as she painstakingly recreates Ms. Strayed's original walk.
Seen in flashbacks, Laura Dern plays her mother, Gabby Hoffman, her best friend and Thomas Sadoski, her ex-husband. These scenes are very emotional and effective since they have a direct link to Cheryl's self destructive path. Once on the trail, Ms. Witherspoon is alone for most of the time but does have a variety of interactions with people both friendly and threatening.
The cinematography beautifully captures the natural landscapes of California and Oregon. While an interesting story and well acted, it does tend to get repetitive at times. Credit Ms. Witherspoon's strong acting in driving the story forward, keeping the audience rooting for her to complete her journey, both physically and spiritually.